People make the difference at Citizens Independent Bank! Our average length of service is close to 11 years. The reason? Our employees all embrace the core values of the bank: Honesty & Integrity • Community Social Responsibility • Exceptional Customer Service • Employee Growth • Financial Strength.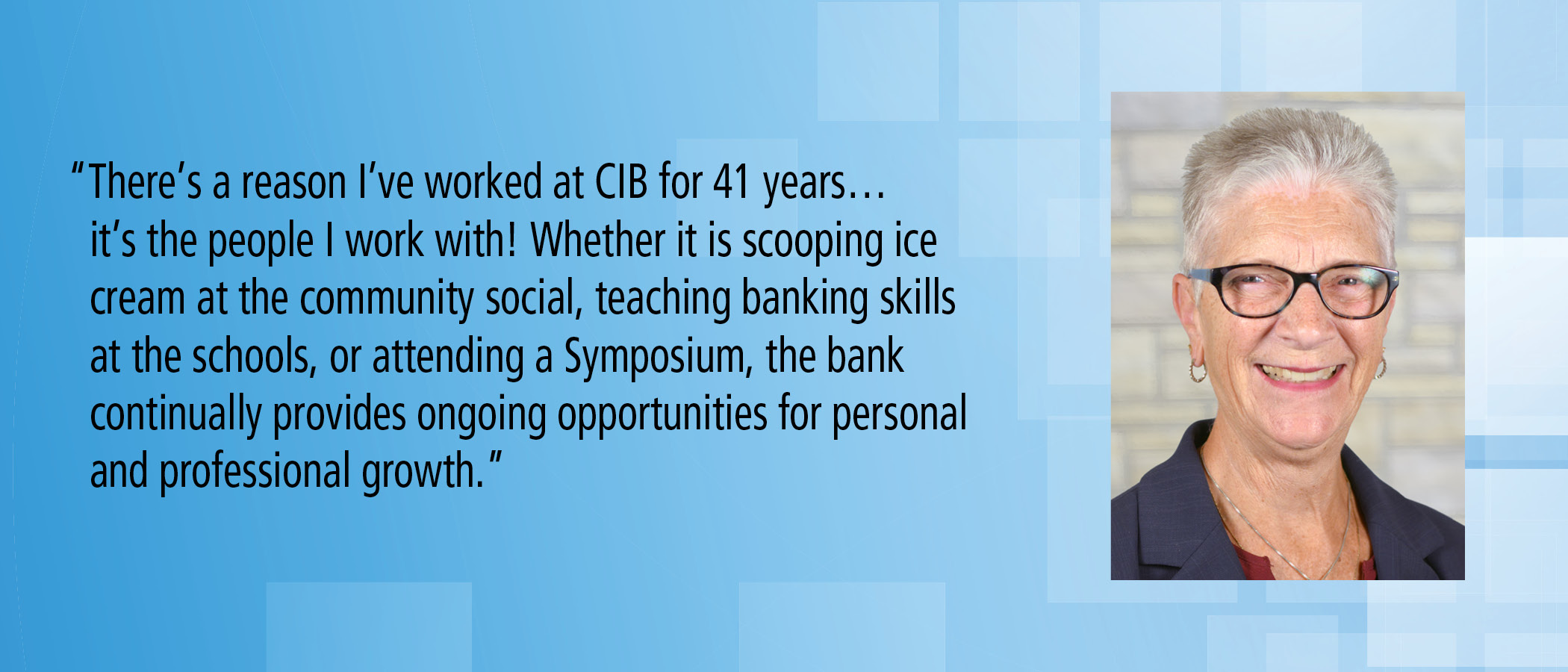 We put people first. Our clients, our employees, our families, our communities.
We want employees to have work that is rewarding and challenging.
We support a work-life balance.
We look to promote from within.
We support ongoing employee education.
We offer full benefits including medical, dental, vision, 401k with match, LTD and STD, and PTO.
We have convenient locations in St. Louis Park, Robbinsdale, Hopkins, and Plymouth.
We have a long history – 70 years and going strong!
We participate in fun community activities.
We want YOU to be part of the CIB team!
Our communities benefit from our employees, too. With many opportunities for volunteering, we hire the best to continue our core value of demonstrating social responsibility to the communities we serve. Join us to enrich your career and your community!
Benefits
We take care of our people. Whether you are beginning your career or you are an expert in your field, our benefits package is one of the most competitive in the Twin Cities. Our Group Insurance options include medical, dental, vision, life, PTO, and short and long-term disability. We also offer a generous 401(k) match.
To apply online, click the Apply Now link at the end of job posting.
Current Openings
Business Banker
Position: Business Banker
Location: St. Louis Park or Hopkins
Citizens Independent Bank and its employees strive to maintain customer trust, demonstrate social responsibility to our Communities, build and maintain close customer relationships, encourage the personal and professional growth of each employee, and grow a strong financial base for ourselves and those we serve. These values drive our success and define the foundation of our business. We are seeking Business Banker candidates that will be excited to promote and support these values in the communities we serve. Join our growing team!
ESSENTIAL DUTIES AND RESPONSIBILITIES
This position is responsible for establishing new banking relationships with corporations, partnerships, individuals doing business, not-for-profit organizations, and associations. The incumbent must have complete knowledge of all commercial products and services including credit products, deposit/investment products, cash management, other commercial services, and the bank fee schedule. The incumbent is responsible for assigned floor duty to service walk-in customers, but also spends a significant amount of time out of the bank in the offices of existing clients, servicing existing business, developing new business, calling on prospective clients, and networking in various ways in the community. The incumbent should also be involved with a community organization that meets our CRA requirements.
This is a front line sales position for all commercial deposit/investment, credit, and cash management products.
Commercial business is brought into the bank through personal interaction of the Commercial Banker with the customer/prospect. The banker must match the product and service with the customer/prospect's identified needs and must carefully evaluate the amount of risk involved in entering into a relationship. The incumbent must understand the business/industry the customer is in and must gain a thorough knowledge of the customer/enterprise history and future plans. The loan administration unit has been organized to assist in the evaluation and approval process. Lending authority will be given to the incumbent based on their training and experience. Requests which exceed this limit must be approved by the Unit Manager or the Officers Loan Committee. Certain requests may require approval by the Directors Credit Committee.
The incumbent must administer all loans within legal and regulatory requirements, the bank's loan policy, procedure policy, and stipulations established by the Officers Loan Committee and Directors Credit Committee.
EDUCATION AND/OR EXPERIENCE
A college degree and/or 5 to 10 years of job related experience. The ability to motivate or influence others is a material part of the job requiring a significant level of diplomacy and trust. Obtaining cooperation (internally and/or externally) is an important part of the job.
Customer Service Representative - Data Entry Specialist
Position: Customer Service Representative - Data Entry Specialist
Location: St. Louis Park
The Customer Service - Data Entry Specialist must have excellent Customer Service skills. They work closely with customers, co-workers, and across departments. This requires that the incumbent have strong interpersonal, verbal, and written communication skills.
The position requires a self-starter with the ability to exercise independent judgment. The specialist will have a keen eye and strong attention-to-detail while entering and maintaining data. They must have the ability to be tactful when pointing out errors on maintenance documentation, and follow through to ensure the errors are resolved. The incumbent will be organized, and can multi-task with a sense of urgency to ensure critical daily deadlines are met.
The Data Entry Specialist is the subject matter expert on all data entry of customer and account information. They will need to think critically and understand the variety of work that is presented to them. They will need the ability to solve problems in a quick an efficient manner.
BASIC FUNCTION
Customer Service Department Responsibilities
Provide Customer Service over the phone and in person
Assist with customer inquiries and error resolution including fraudulent/unauthorized activity, forgeries, and intake of Reg E disputes
Order checks, deposit tickets, and endorsement stamps
Refer products to customers in order to meet referral goal for the year
Process stop payment requests
Process over the phone and in person requests for transfers, loan, and credit card payments
Assist customers in troubleshooting Telebank and Online Services
Complete research requests and various projects as needed
Data Entry Specialist Responsibilities
Customer input and maintenance
Account input and maintenance
Safe Deposit Box maintenance
Cash Sweep maintenance and retention
Closed account maintenance and retention
Dormant account maintenance and retention
Process unposted transactions
Review telephone transfers daily
Track ATM and Debit Card orders daily
Review ATM and Debit Cards daily for closed or dormant accounts
Review monthly ATM and Debit Card reports
Review Bounce Protection reports for exceptions daily
Review Online Banking maintenance daily
Data Entry Specialist Backup Responsibilities
Process and balance customer ACH Origination
Process incoming and outgoing customer originated ACH returns
Process ACH stop payments
Process ACH Notification of Change
Process Reg E ACH disputes (WSUD)
Process federal and commercial reclamation requests
Review ACH daily for return thresholds
Report ACH Rules Violations
Review Same Day ACH reports
Process EDI requests
Internal ACH origination input and maintenance
Process and balance all domestic and international wires
Process incoming chargeback items
Review and retention of stop payment maintenance
Process Deluxe commission payments
MINIMUM REQUIREMENTS
High school graduate or equivalent
1+ years of experience in customer service, banking, and/or consumer lending
Proficient in Microsoft Office
Ability to easily adapt to changing technological products, features, and procedures within the Financial Industry
Full-time Teller
Position: Full-time Teller
Location: Robbinsdale
Citizens Independent Bank has an opening for a full time Teller at our Robbinsdale location. To perform this job successfully, an individual must be able to perform each essential duty satisfactorily. The requirements listed below are representative of the knowledge, skill, and/or ability required. Reasonable accommodations may be made to enable individuals with disabilities to perform the essential functions.
ESSENTIAL DUTIES AND RESPONSIBILITIES
Process paying and receiving functions.
Accepts and process payments.
Issues Cashier's Checks, Money Orders, Certified Checks, Gift Cards, and Travel Cards.
Balancing of teller drawers and machines.
Process coin orders and coin charges.
Redeem U.S. Savings Bonds.
Answer phone inquiries.
Balance the ATM.
Process cash advances.
Perform other activities as requested by the Teller Supervisor.
REQUIRED QUALIFICATIONS
Exceptional customer service skills, cash handling experience, and good figure aptitude. Past Bank Teller experience a plus. Must be flexible & available for an 8 hour shift between the following hours: 6:45am - 6:00pm Monday through Friday and rotating Saturdays 8:45am – 12pm.
EDUCATION AND/OR EXPERIENCE
High School Degree/GED and one year of cash handling and customer service experience.
Our company is an Equal Opportunity Employer/Disabled/VETS/Affirmative Action Employer. Applicants can learn more about the company's status as an equal opportunity employer by viewing the federal " EEO is the Law" poster, its " Supplement" poster, and its " Pay Transparency Nondiscrimination Provision."